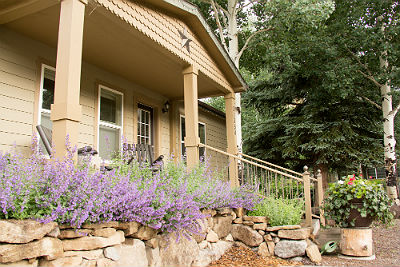 Drum roll, please . . . After being in business 17 years as one of the only bed & breakfasts in South Fork, we are excited to add to the B&B family. We proudly announce a wonderful new addition to the accommodation line-up here at the Arbor House Inn Bed & Breakfast on the River –"Cottage on the Creek."
Although a new addition to the B&B as a vacation rental in South Fork, this little two-bedroom cottage has a lot of history with us. First built in order to accommodate Laurie's aging mother moving onto the property, the little house was "Ginnymom's" place built specifically for Laurie's mother with an ADA bathroom and wheel chair ramp leading up to the front porch. We wanted it to be a house she could grow old in and enjoy no matter what time of year it was. The house, which was originally scheduled to be set in the pasture on the south side of the property, was instead intentionally set just feet from the river on the north side of the main B&B for her to be able to enjoy the cliffs and wildlife that cruised across the river on a regular basis. One of our daughters first wryly gave it the name "the Crooked Cottage," later naming it "Two Cranks in a Cottage" after she moved in to help Ginnymom, and now that the two cranks have left…the little riverfront house has been added to the B&B as a private vacation rental and aptly named "Cottage on the Creek."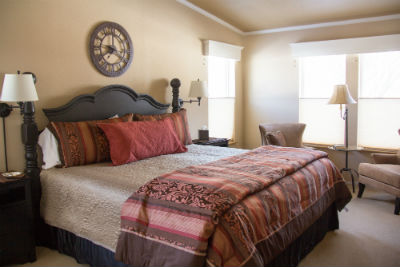 Why are we so excited to open this little gem to the public as a vacation rental? Get a load of this…
Perched directly on the river, it features 1300 sq. ft. of peace and relaxation that until now has only been enjoyed by family members. Laurie had quite a good time remodeling the cottage, giving it the "Laurie Bratton touch" and decorating it in a way to be guest-worthy and a place you are sad to leave. From the wine glasses displayed on vintage wooden pallets to the sliding barn door in the guest bedroom that Keith hand-built, the cottage is set up to envelope guests in mountain luxury tucked right along the river of the south fork of the Rio Grande. Ironically, we personally have never learned to fish, but we know many people who have been waiting with baited breath to have access to the cottage accommodations to be made public. (Pun intended.) We sure like it when they stay here and share their catch!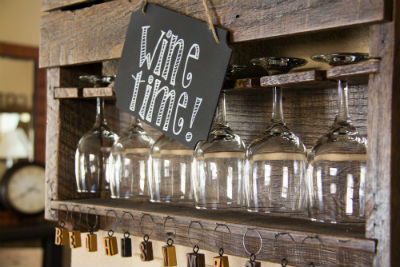 The large master bedroom with king bed, cozy seating area, and private bath with double-headed shower is located on the north side of the cottage with riverside windows that open directly to the back to let the breeze and sound summer in.
The second guest bedroom with queen bed and full bath right across the hall is a perfect combination for a couple, a small family, or two couples vacationing together. The fully equipped kitchen and laundry facilities allow guests to totally settle in and get on with relaxing. The guest favorite–a large party deck overhanging the river–includes sitting and dining areas and provides a breathtaking vantage point for watching the deer dance, the fish flop, the ducks duck, or the hummingbirds hummmm.
We love all our rooms at the Arbor House Inn B&B, but we have a feeling that the Cottage on the Creek will become one of our guests' absolute favorite return vacation spots, summer or winter!
Thanks for welcoming the new addition to the Arbor House Inn Bed & Breakfast, we're excited it's finally here.