Our Luxury Accommodations in South Fork CO
We've gone to great lengths here at the Arbor House Inn Bed & Breakfast on the River to ensure that our guests can easily unwind, totally relax and feel extremely pampered while staying in our luxurious inn located in peaceful South Fork, Colorado. A welcome change from humdrum lodging at chain hotels, each of our five guest rooms has been designed with comfort, character, and convenience in mind, all with great attention to detail so that our guests will lack for nothing. Each room is steps from the wine-friendly "party deck" and three fire pits, complete with views of the cliffs and direct access to over four hundred feet of river. If a private Colorado mountain getaway is what you are looking for, enjoy our little piece of Colorado beauty.
There are a total of five guest rooms in the main house and two guest rooms in the Cottage on the Creek, a vacation rental located adjacent to the bed & breakfast. In the main B&B, three guest rooms feature queen beds with luxury bedding and sitting areas. We cater to couples and adults and provide a peaceful getaway, sans kids. The two bedroom Cottage on the Creek is family friendly, if you have children please be sure to book the Cottage. Since we cater to guests seeking romantic and peaceful getaways, this property is not suitable for children. No guest pets are allowed on property at any time. No exceptions. (We love animals, we just can't have yours here. Thank you!) At the B&B, one handicap accessible room is located on the lower level with a private outside entrance and accommodations of either a king bed or two twins. And for the most romantic of honeymoons or getaways, we recommend the Lovin' Oven Honeymoon Suite, our largest and most luxurious guest room with candelabra fireplace, whirlpool tub for two, and indulgent option of breakfast delivered to the privacy of the guest room or perhaps to the al fresco breakfast area overlooking the river.
5 Guest Rooms
Rancher's Retreat – Guest Room #1
Room No. 1: $275-$305 seasonally
KING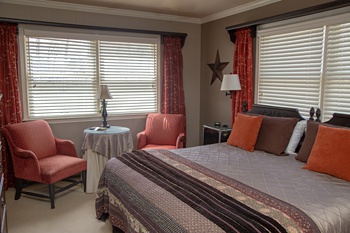 Located on the ground floor, this lovely handicap-accessible room has two entrances and can be accessed with a private outdoor entrance or from the main, indoor living area. Offering the flexibility of a comfy king bed or two twins, it gives guests who are traveling together the option to sleep separately if they prefer. Please specify conversion to twin beds when booking so the room can be prepared accordingly.
Just steps from either door is the outdoor hot tub, conveniently located for romantic, late-night star gazing or an invigorating, early-morning soak. Western artwork, a good book and the soothing sounds of the river all combine for a relaxing afternoon of reading in the comfort and décor of this elegant, ranch house-style retreat. Or, step outside and enjoy the large, backyard deck with picturesque views of the river, cliffs, or mountain meadows. Private bath with step-in shower, hand-held shower head and grab bars. A shower stool is available upon request.
---
Chloe's Corner – Guest Room #2
Room No 2: $255-295 seasonally
QUEEN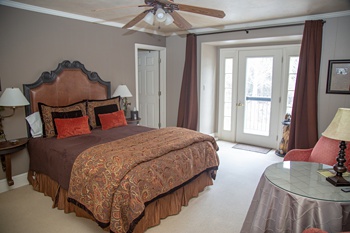 Affectionately named after one of our favorite dachshunds of days gone by, this second-floor room features a queen-size bed and spacious, private bathroom with shower. The highlight of this light-filled room is the private balcony. Enjoy a bird's-eye view of the river, stone cliffs, rustic log arbor and beautifully landscaped backyard grounds below. Nothing better than the simple pleasures of the night song of the river with a glass of wine or the warmth of the first rays of morning sun with a cup of hot coffee. Life is good in Chloe's Corner.
---
Hunter's Hideaway – Guest Room #3
Room No. 3: $255-$295 seasonally
QUEEN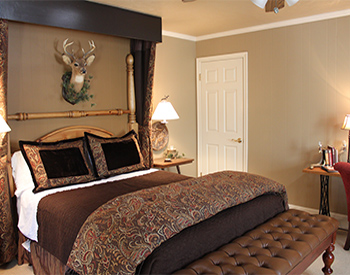 One of the two guestrooms located on the second floor and one of our larger rooms in general, this cozy retreat has a queen-size bed and the look and feel of an elegant, gentleman's hunting lodge.
Featuring our largest private bath with shower, there's plenty of room to spread out and relax. An outdoor balcony with views of the incredible cliff formations, mountain meadows, beautifully landscaped front grounds and soothing sounds of the entry fountain is just steps from the guestroom door. For guests traveling together and requiring two rooms, booking both Hunter's Hideaway and Chloe's Corner together is an excellent choice as it allows the entire second-floor common area and outside balcony between the two rooms to become a private "suite." Upstairs common area also includes comfortable reading chairs, desk, and game table.
---
Fisherman's Folly – Guest Room #4
Room No. 4: $255-295 seasonally
QUEEN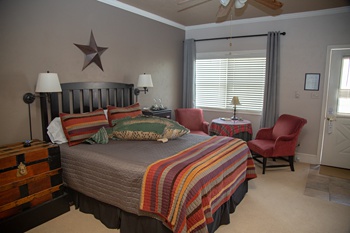 Celebrating South Fork's 17 miles of gold medal fishing on the Rio Grande, Fisherman's Folly is conveniently located on the ground-floor wing. This fishing-inspired guestroom features a private front entrance from the parking area along with direct back access to the oversized party deck and canopied hot tub, log arbor, and beautifully landscaped backyard grounds.
A queen-size bed, private bathroom with shower, rustic furnishings and the whimsical décor of a well-loved fishing cottage will delight anglers of all kinds. A pole and waders are the only extras needed to enjoy fishing in the South Fork of the Rio Grande just steps from either door.
---
The Lovin' Oven Honeymoon Suite – Guest Room #5
Room No. 5: $295-$345 seasonally
KING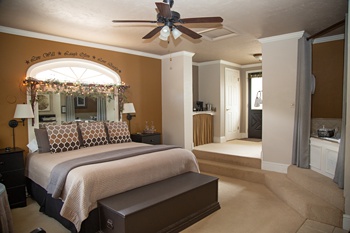 Also known as the Honeymoon or Anniversary Suite, our largest and most luxurious guest room is located on the far end of the ground-floor wing and closest to the river. Want to feel pampered and enjoy the river in style? This is pampering at its finest. With a private front entrance and direct back access to the oversized party deck with canopied hot tub, log arbor, and beautifully landscaped backyard grounds, it has become the requested favorite of many repeat guests.
Snuggle into the king-size bed and enjoy the candelabra fireplace, in-room whirlpool tub for two, and private bathroom with shower. The Lovin' Oven is the perfect room to celebrate a romantic getaway or intimate honeymoon in Colorado's Rocky Mountains. If feeling social, Lovin' Oven guests may choose to have breakfast in the inn's main dining room; if feeling a bit lazy, breakfast can be delivered on a silver tray to the warmth and privacy of the guestroom itself or to the private outdoor riverside patio during our warmer months. *In-room dining arrangements must be scheduled the night before to ensure private breakfast service. Whatever the breakfast decision, it's always right, and it's always delicious.
---
Cottage on the Creek – Vacation Rental
$350 – $425 seasonally + $125 cleaning fee
2 BEDROOMS – KING & QUEEN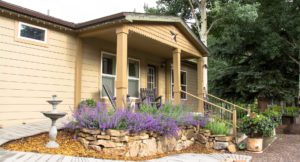 Two bedroom vacation cottage available. The two-bedroom Cottage with deck steps leading directly into the river sits on the three acres of the Arbor House Inn Bed & Breakfast property and is next door to the main guest house. Enjoy the swing at the fire pit next door and listen to the sound of the river beneath the cliffs. This riverside Cottage has two beautiful bedrooms with an additional cot option. (Maximum 5 occupants.) In consideration to those with allergies, this is a non-smoking and "people-only rental", sorry no pets. This beautiful riverside vacation rental is complete with family room, stocked kitchen, dining room, laundry room with washer & dryer, two bathrooms and a spacious deck overlooking the river with over 400 feet of river access. We love the our little piece of the river and hope you do too. Inquire about booking our Cottage on the Creek.
Please call 719-873-5012 for Cottage availability and reservations.
---
In-Room Amenities
As we cater to couples for a romantic getaway, we offer single or double occupancy only and are not equipped to host small children. Also in consideration of our guests with allergies, we do not accept pets. No exceptions, thank you.
Although each romantic guestroom has its own special qualities, all guestrooms are equipped with:
Private bath
Luxurious bedding (twins, queen or king bed)
Sitting area
Wireless Internet
Streaming TV
Coffee maker
Mini-refrigerator stocked with complimentary bottled waters, sodas, creamers for coffee
Microwave oven
Dishes, glassware and silverware
Warm, fluffy bathrobes
Hairdryer
Alarm clock
Emergency flashlights
Extensive guest information binder
Complimentary chocolates
Wine glasses and opener
Ironing board and iron available upon request
Daily housekeeping services upon request